BSKP Spain & Latin Ame­ri­ca Desk
Our BSKP Spain & Latin Ame­ri­ca Desk has exten­si­ve expe­ri­ence in assis­ting Spa­nish spea­king cli­ents with invest­ments and deve­lo­ping their busi­ness acti­vi­ties in Ger­ma­ny. BSKP has its own high­ly qua­li­fied and dedi­ca­ted audi­tors, tax con­sul­tants and lawy­ers. Our team also works with Spa­nish spea­king lawy­ers in Germany.
We at BSKP under­stand the eco­no­mic and cul­tu­ral dif­fe­ren­ces bet­ween the peop­le and com­pa­nies in our eco­no­mies. Our con­sul­ting approach is to ensu­re that the­se dif­fe­ren­ces do not beco­me a hin­dran­ce, but rather an impe­tus for your suc­cess in Ger­ma­ny, in Euro­pe and around the world. Through our net­work DFK Inter­na­tio­nal, we can also pro­vi­de you with the right experts bey­ond Ger­ma­ny in over 90 countries.
Your con­ta­ct per­son Spain & Latin Ame­ri­ca Desk:
Hel­ga Alzuga­ray Mendez
E‑Mail: mendez@bskp.de
Pho­ne: +49 7141 643 84–0
Hel­ga Alzuga­ray Men­dez was born in Argen­ti­na, moved to Spain and then to Ger­ma­ny. She has exten­si­ve prac­ti­cal expe­ri­ence in advi­sing and sup­por­ting Spa­nish-spea­king com­pa­nies and indi­vi­du­als and has the fol­lowing qualifications:
Taxa­ti­on and Audi­t­ing — Tax Advi­sor (Uni­ver­si­ty of Tucumán)
Capi­tal Mar­ket — Diplo­ma (Uni­ver­si­ty of San­to Tomas de Aqui­no in Tucumán)
Busi­ness Admi­nis­tra­ti­on — Tax Con­sul­tant (Uni­ver­si­ty of Barcelona)
Spa­nish Tax Law — Mas­ter (INE­AF Busi­ness School)
Sup­ply Chain & Logistics — Mas­ter (EAE Busi­ness School and Poly­tech­nic Uni­ver­si­ty of Catalonia)
---
Dr. Broll · Schmitt · Kauf­mann & Part­ner (BSKP) se fun­dó en 1990 como una empre­sa ale­ma­na local que inte­gra­ba ser­vici­os fis­ca­les, finan­cie­ros y lega­les. A día de hoy, BSKP cuen­ta con 11 ofi­ci­nas pro­pi­as en toda Ale­ma­nia, vari­as de ellas en las princi­pa­les ciu­da­des como Ber­lin, Frank­furt, Dort­mund, Dres­den o Stuttgart
BSKP Espa­ña — Lati­no­amé­ri­ca tiene una amplia expe­ri­en­cia en ayu­dar a los cli­en­tes de hab­la His­pa­na a inver­tir y des­ar­rol­lar sus acti­vidades en Ale­ma­nia. Nue­s­tro equi­po cola­bo­ra con aboga­dos de hab­la His­pa­na en Ale­ma­nia para pro­por­cio­nar una gama com­ple­ta de ser­vici­os lega­les a cli­en­tes extranjeros.
Des­de BSKP com­pren­de­mos las ten­den­ci­as glo­ba­les de des­ar­rol­lo legal y econó­mi­co, asi como la importan­te con­tri­bu­ción de Espa­ña y Lati­no­amé­ri­ca a la inte­gra­ción glo­bal, enten­di­en­do pro­fun­da­men­te las brechas comercia­les y cul­tu­ra­les ent­re las dife­ren­tes eco­nomí­as. Por lo tan­to, ser fle­xi­bles y adap­tar­nos a las nece­sidades del cli­en­te es nue­s­tro princi­pal obje­tivo de trabajo.
Cada vez son mas las empre­sas Espa­ño­las o Lati­no­ame­ri­ca­nas que dese­an tener pre­sen­cia en Ale­ma­nia, esto impli­ca enfren­tar­se a una serie de desa­fi­os lega­les y fis­ca­les en ter­ri­to­rio Ale­mán, es por ello que des­de BSKP y a tra­vés de nues­tra red inter­na­cio­nal DFK, pode­mos mane­jar los asun­tos lega­les y fis­ca­les de su empre­sa en más de 90 pai­ses en todo el mun­do y bus­car solu­cio­nes prác­ti­cas a medida.
Si tiene algu­na preg­un­ta, comun­í­que­se con nue­s­tro Depar­ta­men­to de Asun­tos Espa­ño­les y de Latinoamerica
Hel­ga Alzuga­ray Mendez
E‑Mail: mendez@bskp.de
Telé­fo­no: +49 7141 643 84–0
Hel­ga Alzuga­ray Men­dez nació en Argen­ti­na, lue­go se mudó a Espa­ña y lue­go a Ale­ma­nia. Ella tiene una amplia expe­ri­en­cia prác­ti­ca en ase­sorar y apoyar a empre­sas y par­ti­cu­la­res de hab­la his­pa­na y cuen­ta con las sigu­i­en­tes calificaciones:
Con­ta­dor Púb­li­co Nacio­nal (Uni­ver­sidad Nacio­nal de Tucumán)
Diplo­ma­tu­ra en Mer­ca­do de Capi­ta­les (Uni­ver­sidad San­to Tomas de Aqui­no ‑Tucu­mán)
Lic. en Admi­nis­tra­ción de Empre­sas (Uni­ver­sidad de Barcelona)
Mas­ter en Fis­ca­li­dad y Tri­buta­ción Espa­ño­la (INE­AF- Busi­ness School)
Mas­ter en Sup­ply Chain Manag­ment y Logisti­ca (EAE Busi­ness Shool y Uni­ver­sidad Poli­té­c­ni­ca de Cataluña)
---
We can offer our cli­ents from Spain and Latin Ame­ri­ca the fol­lowing ser­vices in par­ti­cu­lar: | Pode­mos brin­dar ser­vici­os en vari­os idio­mas, como espa­ñol, ale­mán e ing­lés. Nuestros Ser­vici­os en Cas­tel­la­no incluyen:
Specialized legal and tax advice
International tax consulting
Advice on the acquisition and sale of companies
Foundation of companies
Preparation, negotiation or review of contracts
Settlement of transnational disputes
Labor Law
Tax compliance
Consulting in international trade
Daily business transactions
Financial accounting and financial reports
Preparation of annual financial statements
Turnover tax return, recapitulative statement, Intrastat
Payroll accounting
Income tax registrations
Registration with tax office and social security
Office services
Asesoramiento Legal y Fiscal
Asesoramiento Fiscal Internacional
Declaración Financiera y Fiscal
Presentacion de Cuentas Anuales y Estados Contables
Asesoramiento en aquisiciones y ventas de empresas
Establecimientos de Empresas
Comercio Internacional.
Redacción y verificación de contratos (redacción, revisión y negociación )
Solución de Controversias transnacionales.
Fusión y Adquisición
Derecho Laboral
Alta en la Agencia Tributaria y la Seguridad Social
Contabiliadad mensual
Contabilidad de las operaciones diarias
Declaración de IVA (mensual-trimestral-anual)
Confección de nóminas
Presentación de impuestos sobre las nóminas
Aportacion a la seguridad social
Servicios de oficina
We advise you personally.
To avoid waiting times for you, please make an appointment. Call us or send us an appointment request via the contact form.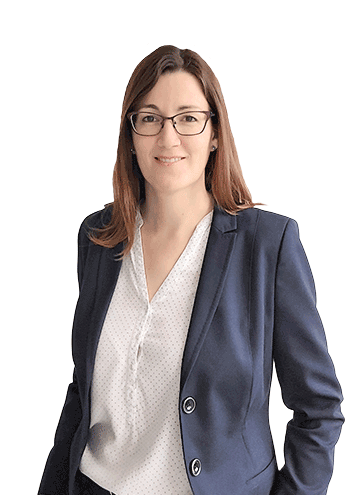 Profil
Helga Esperanza Alzugaray Mendez
Helga Esperanza Alzugaray Mendez
Contador Público Nacional (Argentinean Certified Public Accountant)
Diplomatura en Mercado de Capitales
Lic. en Administración de Empresas
Master en Fiscalidad y Tributación Española
Master en Supply Chain Managment y Logistica